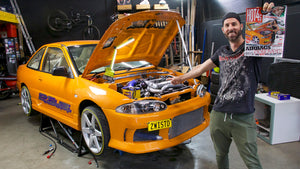 2WISTD
IS GOING UNDER THE HAMMER!
2WISTD - One of the most recognisable modified cars on the interballs is now for sale with half of the proceeds going to ReachOut - an Australian charity supporting young people and their families, who are struggling with mental health. The original owner is also throwing in $500 no matter what it sells for and we're doing the same! 
This heavily modified Lancer originally came to attention back in 2007 during the Autosalon series, and after being laid up for years it was recovered by us to be given a new lease at life. It now makes over 223KW at the wheels running on E85. 
2WISTD is a 1996 Mistubishi Lancer, powered by a 4G63 EVO engine. The following mods are featured in the HOT4 Magazine of which it was a cover car including rebuilt internals, TD05 16G Turbo, mandrel bent piping, front mount intercooler, high flow cat, exhaust and braided lines. 
 It also has an EVO gearbox, GAB coilers, heavy duty clutch and EVO3 front LSD (which appears to be locked) 
The car is painted by 2SUS in Ford Orange, with shaved wipers, shaved boot lock (boot stuck closed currently) projector headlights, custom bonnet, MSport S15 front bar, WRX rear lip, X-Racing side skirts and pumped guards. It also has FTO front seats and a fully customised interior in 3 different types of "leather" and an epic stereo system including 2 huge subs in the boot. 
Along with the original modifications, the car now runs Castrol Fluids, has a new Century Battery, Haltech Ellte1000 ECU, new fuel pump, 750cc injectors, LS1 coils and new spark plugs. The sale includes some original engineering paperwork and receipts. 
The car currently runs but deserves some attention on aspects like the engine, interior, bodywork and stereo. No inspections are available before purchase so you should check out the MCM series on this car so you know exactly what you are getting. While some engineering documents are included, the car is not currently road registered in NSW. It is sold AS IS with no warranty of any kind or returns.  
 Watch The Full Playlist Here: 
https://www.youtube.com/watch?v=wNTJYnfjEec&list=PLp0KnUFYB--it2D1jVTHlrpH-3HgnYxSR
The car will be sold on eBay with a starting bid of $1 and 50% of all proceeds of this sale will be donated to ReachOut - a charity of which we are proud ambassadors. ReachOut supports young people and their families who are struggling with mental health.
You can check out the link for the eBay listing HERE
https://www.ebay.com.au/itm/132968297877
BIDDERS PLEASE NOTE: You'll need to message the seller directly to request access to bids, this is to prevent fraudulent bids and time wasters.
Big thanks to Ben from Benny's Custom Works for running this auction for us!
---
39 comments