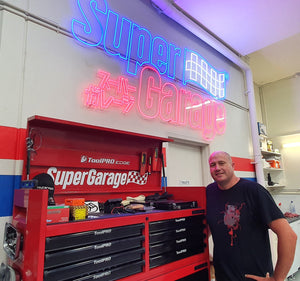 What is inside a professional mechanic's toolbox?
We have all dreamed of having a roll-cab full of fresh tools, but what tools does a seasoned professional mechanic opt for when setting up a new workshop toolbox? Recently, we had the good fortune to be invited by Supercheap Auto (CLICK HERE) into their Penrith Superstore to go on a shopping spree as we set up Super Garage. 
Super Garage's on-hand mechanic, Paulie, was only too happy to run us through some of his hacks he likes when setting up a new toolbox, or rearranging an old one. Once he was done with the epic-unboxing, the learning was ripe to begin...  
We were primed to find all sorts of specialised hardware, but Paulie's biggest tip is to work out how you naturally approach your toolbox, and put your most commonly-used tools there. In his case, with the variety of cars he's working on, he keeps his regular-use socket sets where they are easiest to grab, in a mid-level drawer.  
Socket sets are one of the cornerstones of any person's tool set, and Paulie likes to have options, so he runs a 1/4in drive (for small, fiddly jobs), 3/8in drive (for average work), and 1/2in drive (for really stuck or large fasteners). In addition, a set of impact sockets will last a lifetime if you're using power tools - the chrome bits will strip quickly on most modern 18v brushless tools.
Spanners were another area Paulie had some beaut advice, as he keeps his regular, go-to spanners in an organised foam cut-out in the left-hand drawer, while the right-hand drawer carries specialist spanners like extra-long ones, rachet spanners, crows-feet spanners (for undoing brake fittings or stubborn fasteners), stubby spanners, and the like.
He keeps his adjustable "shifter" spanners in another drawer with the other hammers.  
For some reason most car enthusiasts end up with mystery screwdrivers in our toolboxes. Where did they come from? Whose are they? And do they know where the 10mm sockets are? Paulie keeps his organised with a foam insert, making them easy to grab in a hurry.  
One of the parts Paulie was most impressed with is the tooth on the ToolPro-X spanners, which he used to undo a particularly stubborn diesel injector on a ute he had in at Super Garage recently. Paulie keeps several ToolPro-X kits on-hand as their finer-resolution rachets and high-quality finish really impressed him. 
Spending money on good quality drill bits is an investment in your own time, and remember to grab some cutting compound to keep the bits at their best. Paulie highlights how important tools like drillbits are, because they're typically needed during emergency fixes, and having to either battle a blunt cheap drillbit or go buy one to suit the job, can turn a simple fix into a huge saga. 
---