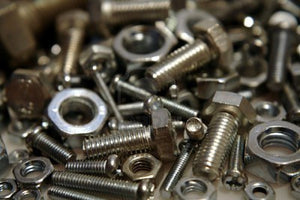 Workshop Manuel explains: taps and dies fix your cross-threading
Winding a bolt in only to have it cross-thread is one of the most frustrating experiences you can have while working on your mad ride. 
Fittings (bolts and nuts) are designed to have different size threads, and when trying to fit an incorrect bolt into the wrong threaded hole the mis-matched threads gall on each other and this is where the term "cross-threading" comes from. Sometimes, old bolts have been over-tightened, or get rusty and damaged, which stops the threads from cleanly meshing together as intended.
Once a bolt or an internal thread is galled-up it needs to be re-cut (also known as "chasing") to make it work once again.
Taps (the long ones) will re-cut internal threads and this is why the process is called "tapping", while dies (the round ones) are run down bolts or external threads to refresh them, which is the process of "threading". 
Bolts and fittings come in all manner of sizes and formats and there are also different types of taps to suit different threads and uses, some for turning by hand and others which are used in machines. There are specific taps for thread chasing, which is handy to do if a part has been painted or you're working on an old, rusty car whose threads might be a little suspect or had a bolt that hasn't come out in 50 years.
Running a tap or die over your fasteners is a great idea as it takes only a few minutes and then everything goes together nicely with far reduced chance of cross-threading calamaties.
A great tip I was given many years ago was to make sure you use some penetrating oil to help lubricate the threads, and always start bolts and nuts by hand. This way you can get at least 5 or 6 turns on before zotting them up with power tools, as this also helps reduce the risk of cross-threading.
Next up, I'll run you through some of the different types of common fasteners used in cars.
---