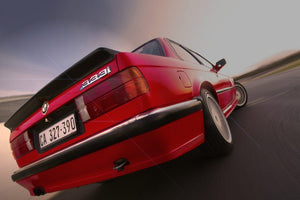 Workshop Manuel explains: how South Africa built 2 of the coolest E30s you've never heard of
As Marty and MOOG dive into modding their E30, I'm going to take you on a trip to South Africa back in the 1980s and '90s. South African arms of car manufacturers have a long history of building their own special-edition hot rods, like the Ford Perana and XR8, as well as the BMW 333i and 325iS.
Because they - like Australia - missed out on getting the E30 M3, BMW South Africa came up with their own special model to homologate the E30 BMW for their local Group 1 racing regulations, all built at the local Rosslyn plant. From 1985-1987 they fitted 204 Series 1 E30s with the 3.2-litre M30 "big-six" engine from the 7-series to create the 333i.
The most powerful non-M-spec E30 at that time was the 323i, which came with between 138hp-150hp but the 333i boasted 197hp, although fitting the big six into the small 3 Series came with some penalties: buyers had to choose between power-assisted steering or air conditioning as there was limited space in the nose. 
The cool factor didn't stop there, however. BMW South Africa knew the big six would fit because German tuner Alpina sold cars in Europe already converted. To make sure the South African model was up to the task of racing, the local BMW arm equipped the 333i with the Alpina-sourced brakes, intake manifold, gauges and wheels, while an MTech 1 bodykit adds more sporty flavour than what the garden variety 323i had.
After racing rules changed in 1987 the 333i was no longer required, though this didn't mean South Africa was giving up on the cool special editions. While most markets had a 325iS model of varying specifications, the coolest was available in South Africa. 
Starting in 1990, 325iS models were built in Evo I and Evo II spec, all based on the Series II E30 and featuring the MTech II bodykit, 15-inch basketweave BBS wheels, E30 M5 5-lug suspension (regular E30s run 4x100 PCD), upgraded springs, shocks and swaybars, Sport interior, and a limited-slip diff. 
Under the bonnet the 325iS retained the regular M20 "little-six" engine as found in other six-pot E30s, but they were built in Alpina C2-spec. This meant they had a 2.7-litre bottom end, 200cc up on other 325iS models, with an Alpina cam and other top-end breathing mods to liberate 197hp, or 30hp more than a basic 325i.
The South Africans went one step further, however, equipping the 325iS with lightweight aluminium guards, bonnet, and bootlid to shed precious kilograms compared to the regular model. 
The 1991 Evo II model kicked out 210hp thanks to a throttle body and air-flow meter from the M30-powered 535i, as well as a hotter cam, while the suspension was also lowered further and had stiffer anti-roll bars fitted. 
Both the 325iS and the 333i occupy a special place in South African car culture as some of the most precious and special locally-engineered hot rods they've ever gifted the world, while they are complete unicorns for most E30 fiends: rare, desirable and engaging special editions from a far away land.  
If you want to see what madness Marty and MOOG are swapping into their E30, then you need to CHECK OUT THE LATEST EPISODE!
---