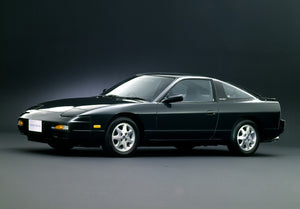 Why the 180SX is the perfect 90s Nissan
Yeah, the GT-R Skyline is Nissan's 1990s hero. A swaggering four-wheel-drive, twin turbo coupe packing a nuclear-grade double-overhead cam six-cylinder engine and a racing and tuning pedigree few can hold a candle to.
But Godzilla's legacy is also its greatest downfall as the price to buy, own, modify and repair the King Nissan can be breathtaking even before the current price boom. And waiting in the wings are the little four-banger brothers; Silvia and 180SX. 
While Nissan's sports coupe originally dates back to 1964's CSP311-series coupe, the most famous models are the 1988-2002 S13, S14, and S15 final generations. While Nissan offered them in two-door coupe (Silvia) or three-door hatchback (180SX) variants, tuners the world over have rejoiced in building their own variants by swapping the 180's pop-up lights onto Sivlias to make One-vias, and Silvia fronts on 180s to make Sil-Eightys (or Strawberry-face if it is an S15 front).
While they were offered with a range of 1.8-litre, 2.0-litre and (in the USA) a 2.4-litre four-cylinder motors, manual and auto transmissions, and all sorts of quirky options but we're just going to look at the full-fat SR20DET-powered five-speed models as we're all about that choo-choo dori-dori life, as many 180 owners were. 
Originally offered in the 1991 S13-series update the SR20DET would be available with between 150kW and 185kW by the time the final S15 Silvia rolled off the line in 2002, though the 180SX finished production in 1998 with the fabulously aggressive Type X model.
Featuring a well-balanced chassis, strong suspension, and a plethora of handling and power upgrades, the 180SX also proved to be more practical than the Silvia thanks to its hatch making it easier to take spare wheels and tools to track days and mad drift sesh's.
You could easily daily drive one, thanks to the factory power steering and air conditioning, and they had plenty of room up front so you could easily swap in all sorts of other mad turbo six-cylinder or V8 powerplants. Back In The Olden Days, 2JZ swaps were ridiculously simple and made bulk skids.  
Debate rages over whether the Silvia (200SX in Australia) or hatchback 180SX is the better model, but the reality is it is largely a Pepsi versus Coke argument. I mean, we all know an RB26-powered, Strawberry-faced Type X 180SX is the ultimate Nissan, right?
---
13 comments