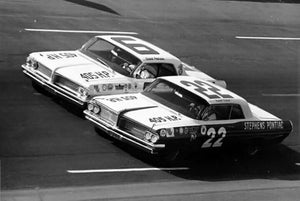 Why all car enthusiasts should care about Pontiac's racing history
Muscle cars aren't to everyone's taste, and that is ok. But they're vitally important to all car enthusiasts as the muscle car wars of the 1960s marked the first time car brands directly appealed to young people, and even promoted modifying your car! Pontiac are acknowledged as one of the first brands to do this with their 1964 Tempest GTO model, featuring the 6.4-litre (389ci) V8 from the full-size Bonneville wedged into a much smaller model. 
However, Pontiac were actually selling street registered race cars to the public just a couple of years earlier, with their Catalina Super Duty hot rods. And this from a brand which was nearly killed off in the mid-1950s for having poor sales...
If you've watched THIS VIDEO about my 1964 Pontiac on MCMTV2, you'll have seen me bang on about why I think Pontiac, as a brand, was pretty cool. A lot of people know Pontiacs from the GTO muscle cars, or the Firebirds and Trans-Am pony cars featured in legendary movies like Smokey & The Bandit but I reckon the coolest bits of Pontiac history actually occured between 1960-1963.
1960 was the year Pontiac got serious with their "win on Sunday, sell on Monday" policy. They'd had several key hot rodders and race car builders in their corner for a few years already by that stage, with big guns like Smokey Yunick (see below) running 389ci-powered Pontiacs in NASCAR, with Mickey Thompson handling drag and land-speed duties. 
For 1960 Pontiac actually offered race-spec motors in their Catalina model. Now, the Catalina is built on the full-size platform so this 2m-wide, 5.5m-long barge was expected to run to almost 300km/h in NASCAR and turn 12-second ETs in NHRA Super Stock drag racing! 
Mickey Thompson even put four Pontiac engines into his Challenger 1 land-speed streamliner, supercharged them, and then went 406mph on the Bonneville salt flats. He was the first American past 400mph and would have nabbed the outright land speed record had he not had problems on the mandatory return run. 
Eddie "Thriller" Hill also tasted success in straight-line competition with his twin-engined dragster running 200mph several years before Don Garlits did. Pontiac 9.3in rear-ends were often used in these days, due to their size and strength compared to other manufacturers' diffs. 
Here is Mickey Thompson in one of his Pontiac-powered rails with his '59 Pontiac tow car behind. M/T (yes, the same Mickey Thompson as in drag race tyres) even made his own Hemi heads and supercharger intakes for Pontiac engines!
Up against plenty of competition from Chrysler, Ford and even GM stablemates Chevrolet, Pontiac pushed a larger 421ci (7-litre) V8 into their Super Dutys, making a giant (for the time) 425hp.
Somebody must have pointed out to the engineers that shedding weight is free power, so Pontiac started adding aluminium body panels and bumpers, cleaving weight from the 1800kg behemoths. It worked as Pontiac won 30 of 52 NASCAR races, giving "Little" Joe Weatherly his first NASCAR championship.
For 1962 Pontiac pushed on with lightening their cars, but were also experimenting with overhead cam technology and aluminium engine blocks. Unfortunately the bean-counters killed any hope of this stuff ending up in production cars due to the cost to manufacture but how cool is this for 1962?!
This photo also shows the tri-power carburettor set-up which featured on many production Pontiacs since 1959. It uses three two-barrel carburettors and remains one of the coolest period accessories to any big American V8.
1962 proved to be a watershed year as the R&D done by Pontiac engineers (along with Yunick, Thompson and other builders like Hill and Ray Fox) saw them dominate NASCAR and NHRA battlegrounds. 
Glenn "Fireball" Roberts obliterated the competition at the '62 Daytona 500 (see below) after leading the entire race the year before and failing to finish within sight of the finish line.
For 1963 Pontiac engineers took it up another notch. They built a handful of specially-lightened "Swiss Cheese" Catalina Super Dutys, so named because of all the holes drilled in their frames. Super-light these chassis were notorious for breaking and twisting after minimal use... and this was the FACTORY doing this to their own cars!
The big Super Duty Catalinas (see below) were also joined by some smaller stablemates in 1963, with Pontiac engineers building 12 mid-size Tempests set up with the full-house 421ci engine. These were like VR38-powered Nismo Jukes, but 50 years before Nissan.
Apparently, Pontiac engineers had heard that General Motors (their parent company) were going to tell them and Chevrolet to kill all racing models so they decided to go out with a bang.  
Pontiac built 6 Tempest Super Duty "factory experimental" coupes and 6 wagons. Because fast wagons are cool.
They also built one coupe for NASCAR-style racing, entering it into a swanky sports car race at the (then new) Daytona Super Speedway. It was up agasinst the latest, greatest cars like 427ci (7L) Corvettes and even Ferrari 250 GTOs!
With Paul Goldsmith driving the wheels off the 7-litre brute he flogged everything else mercilessly. He lapped one GTO - the fanciest sports racing car of the day - EIGHT times and came in 5-miles ahead of 2nd place. 
Unfortunately this wasn't enough to stop GM killing the Super Duty program and Pontiac switched to building GTOs and selling them to kids for 1964. For those out there who ever wondered about Pontiac's tagline of "we build excitement" this is where that comes from.  
---