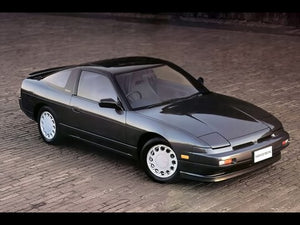 What is resto-modding and why is it going to be the biggest trend to hit the car scene?
If you've watched the new build series on the MCM 180SX (see Episode One HERE and Episode Two HERE) you may be wondering why the lads are treading a milder, more carefully curated path with the museum piece 180SX instead of going hog-wild and building something out of Need For Speed...
Well, trends in modifying cars ebb and flow through time, and we're seeing a big turn occur. As the values for some of our favourite 90s Japanese and European cars explode, people are less likely to cut them up and build wild engine-swapped, impractical monsters out of them. 
As these cars are aging, so are the people who love them. As we get older it can be hard to find the time to get to the track, so having a more useable street car that retains the core DNA of the base car and is easier to live with becomes very attractive. 
This change happened in the V8/muscle car scene 20 years ago as people wanted a classic car but one that has modern power and luxuries (like air conditioning, power windows, disc brakes, better suspension, leather trim and the like) and this is where "resto-modding" came to life.
The red Camaro above (Pic by Ben Hosking for Street Machine) packs a quad-cam 7L V8, independent rear suspension, big disc brakes and all manner of modern tech, but it still looks classic.  And this is where Marty and MOOG are heading with their 180SX project!
The idea is to have your classic car made fresh and new, but without shredding its core appeal (and much of its high resale value). Ultimately the goal of resto mods is you wind up with a wonderully balanced machine capable of going on interstate road trips, or taking the significant other out for date night to a nice seafood dinner. 
Where restomods differ to straight restorations is you're still free to personalise and improve on areas the original car might not have been the best at. With values for original Type X 180SXs running hotter than summer in the desert, buying a regular non-turbo base model 180SX and turning it into a Type X clone is suddenly far more attainable. 
With many of our favourite 90s hero cars being 30 years old they'll need work to freshen the paint, body and suspension up so they drive as well as our rose-tinted glasses remember (back when they were only a few years old). So, now is the time to choose whether you respray that original champagne gold or go for the rare pearl white, or a colour never offered on that particular model of Nissan (Nismo 400R blue, maybe?). 
Having your car nicely restored so everything feels fresh and tight is key, but so is balancing the mods. Being low is cool, but you want the car to drive nicely so don't slam it into the weeds or fit massive Stancey Pants wheels - you want to strike a balance, and this is where the OEM+ style comes in as people look to using upgrades from upper-spec models, like doing 5-lug swaps. 
While SR20s can be pushed to well over 4-digit power figures, the idea behind a restomodded 180SX is to keep it to a useable power figure. This is why a more responsive 200-250rwkW but with a fat power band spread across a wider RPM range is where Marty and MOOG will focus their attention - they have enough cars capable of baking tyres already, so they want to make this 180 drive better than new. 
Similarly, most restomod cars will keep most of the OEM-style trim in the cabin. But improvements can be made to the seats, steering wheel and shift knob, and stereo. This is why vintage OEM Recaro seats are so valuable today, the same as original bucket seats from GT-R Skylines, Evos and STi Imprezas. 
The ultimate incarnation of restomodding are the turn-key hot rods from companies like Singer Vehicle Design. These beautiful Porsches are super-exotic hand-built restomods and have created a whole cottage industry for all sorts of modern classics, from Alfa Romeos, BMWs, and more. 
So, if you had a bottomless budget, what would YOUR restomod be?
---