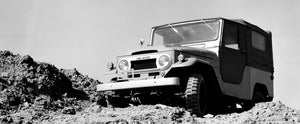 What accessories do you actually need to go 4x4ing safely in Australia?
In the latest ep of the MCM Jimny build (which you can check out HERE), the lads get the full skinny on how to set up a mad trail-bashing, rock-crawling, dune-hucking off-roader, with some help from VW and 4x4ing expert Isaac. 
A first aid kit and basic recovery gear, including a set of Maxtrax (or similar boards), plus a winch or recovery straps are among the first things that should be purchased. However, as MOOG discovered, you can go too large when buying a winch...
MOOG's 12,000lb-rated winch (the only one he could buy at short notice) was way too much for the Jimny's weight and electrical system. As Isaac explains, you'd want to size a winch to twice the weight of the vehicle but also remember to make sure your 4x4's electrical system can handle the load placed on it by an electric winch. 
Australia is a remote country, and phone reception is often poor, even within 50km of major city centres, so communications are vital. More than one off-roader has died because they weren't able to call for help after something has gone wrong in a remote area. Thankfully MOOG is fitting a CB radio so he'll always be able to call for help or annoy people with stories of singing donkeys called Norflager eating tofu kebabs through their nose, 10-4 Rubber Duck!
Another important item for safety is a satellite navigation unit, like the Garmin unit going into the Jimny. With patchy phone reception you can't rely on Google Maps to save you when you're hundreds of kilometres from anywhere.
Having somewhere to charge your accessories or power tools is also a capital idea, so the lads have fitted a Ryobi charger system. This means they can use their grinders, lithium-ion wrenches, drills and worksite radios when they're way out past the black stump. 
FInding suitable tyres is critical, because there are so many varied surfaces you could be driving on around our wide brown land. Mud, loose dry dirt, sand, or tar all require differences in sidewall construction, tread pattern and depth, so it is important to think of where you'll be using your 4x4 and selecting tyres to suit. 
Lighting and protecting the front of your 4x4 are both crucial, which is why so many off-roaders fit bullbars, light-bars and spot-lights. You obviously need to see where you're going and even in bright daylight there could be shady areas of bushland you need to navigate... and more likely you'll probably end up driving down a trail as the sun is setting after losing track of time and trying to get home so mum doesn't yell at you for missing dinner.
You should also probably take a tip from one of Australia's greatest off-roading heroes, Les "The Bush Tucker Man" Hiddins and get yourself a fine hat. You'd never see this A-grade legend without one!
---