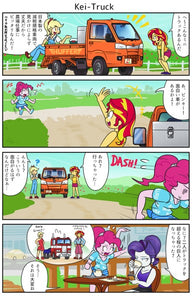 The "Female Farmer Pack" is just one hilarious reason the Daihatsu Hijet is rad
Unveiled in September 2014, Daihatsu's Hijet entered its 10th generation with a bang. It was the first comprehensive update to the popular Kei-sized truck in 15 years, although the van-based variants got their 10th-gen update in 2004. 
Marty's 4x4 tip-truck, known as Keith, has proved itself to be a sick little around-town runabout (SEE: HERE), as well as a proven off-road beast battling MOOG's Jimny (CHECK IT OUT HERE), so it is easy to understand how the Daihatsu light-duty trucks have had a solid fanbase for over 60 years, leading to over 4-million units sold!
Daihatsu offered a range of trays and various options on the Hijet and, along with a "Selectable Color Pack" (colour-coding of the body and interior), "Cabin Pack" (interior trim upgrades), "Stylish Pack" (aesthetic upgrades), "Cargo Bed Pack" (optional accessories in the tray), "Safety Pack", and "Energy Saving Pack" (fewer manual functions on the truck), there was also a "Beauty Pack" which included special glass "that women find pleasant" along with a "sun visor with  a vanity mirror" and a super-clean air filter.
On top of this, Daihatsu offered the "Nougyou Joshi (Female Farmers) Pack" which combined the Beauty and Selectable Color packs, along with a special Nougyou Joshi Project sticker. This pack came about because of a partnership between Daihatsu and the Japanese Ministry of Agriculture, Forestry and Fisheries, who ran the Nougyou Joshi Project for female farmers.
"Since the launch of the Nougyou Joshi Project in November 2013, Daihatsu has participated in the Project to clarify the use and needs of mini trucks by female farmers and, based on this clarification, to create attractive specifications, equipment, and design for the mini truck. Daihatsu has visited the members of Nougyou Joshi Project for a door-to-door survey. A variety of specifications, equipment, and accessories are developed from Nougyou Joshi Project, including; vibrant body colors that enliven the mood of female farmers; equipment from a female perspective (including super UV & IR cut glass (front door), super-clean air filter, and sun visor with a vanity mirror);Nougyou Joshi Pack that incorporates brilliant body colors and equipment that female famers find pleasing; enhancement of accessories including an increased variation of colors for the gate protector and cargo seat, etc."
Marty has proven how adept the Hijet is off-road, so we're not sure if Daihatsu ever needed to offer a special farmer pack truck! 
---