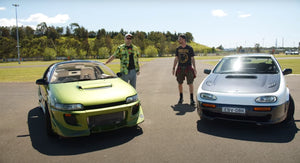 The epic 1990s FWD $2000 Japanese car battle is here!
Two combatants, two cars, two-thousand-dollars (plus a bit more), eight heavy chrome wheels, and a whole lot of 1990s street cred. The time for Marty and MOOG to battle their latest nuggets is upon us, so lets have a quick squiz at the combatants for those who have been away tending to their goats and Cheryls, and who may have missed the madness so far.
MOOG bought himself a lightly modified Nissan NX-R coupe, which is based around the N14-generation Pulsar and packs a front-driving (and naturally aspirated) SR20DE. Kitted out with Vault Crystal chromies, an early WRX bonnet scoop and 90s Ford Falcon XR6 bonnet vents, this example is actually incredibly clean for such a rare car.
MOOG really lucked out with it, as previous owners have taken great care to keep the NX Coupe in good condition, even though it was considered by some to be the poor cousin to other epic 90s Nissan sports cars like the Silvia, 180SX and Pulsar GTi-R. However, the NX Coupe had one thing none of those had: a Targa-top roof!
Marty's Toyota Sera definitely hadn't been looked after, which is a shame given one previous owner spent the US Defense budget turning it into a Sex-Spec show-stopper. With a respray in Holden Hot House Green, big bodykit (including that Celica ST205 GT-Four bonnet scoop), and a totally retrimmed interior it looked the part.
And thanks to the turbocharged Starlet GT 1.3-litre four-cylinder under the bonnet it definitely had more power on tap than MOOG's atmo SR, though Marty was worried from the outset about the engine's health given he bought the car off Facebook Marketplace for only $2500 and it had to be tow-trucked to the shed from someone's front yard.
MOOG's car might not have the raw, unbridled power of Marty's Sera, or the wild butterfly doors, or white vinyl interior... but it might actually finish the challenges as it is far less of a risk of driving over its own crank, or firing a con rod into a kangaroo bouncing nearby.
At its peak, the Auto Salon show series was the battleground Sex-Spec cars would flex in, and as we explained a few weeks ago the judging for these shows awarded more points if you had modified more "stuff" on your car. This goes some way to explaining how cars ended up with everything being retrimmed (or painted) on interiors, like in Marty's Sera.
So, boil yourself a pot of green tea and unwrap your tofu kebab, kids, because the battle shall begin and you can watch all the madness unleash HERE IN THE LATEST EPISODE...
---