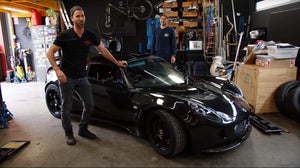 Should you buy a new project, or reinvent the car you have?
Deciding to sell the machine you've poured your heart, soul and every penny you've earned to move on to a new project is a moment that comes to us all at some point, and when it occurs you just know it's time. But should you go out and build different cars, or reinvent the one you already have? 
MOOG recently sold off his multi-talented Golf R for the impractical (but brutally fast) for a new platform to modify... but would you have stepped up with a new platform, or modified the Golf to be faster than a Lotus? 
MOOG spent plenty of time supercharging his JDM Mini, creating a wild boosted beast that he then pulled back off the road to swap the Honda B-series VTEC motor in and give the Mini its current identity. He could well have sold it off to build something else Honda-swapped but he wanted to keep the platform which is in great condition, and put the effort into fixing what MOOG had identified as the car's weaknesses. 
Marty also reinvented a car close to his heart; 2SEXY. What started off as a lowly $3000 ex-show nugget was "demodified" and turned into a cleaned up track rat. While MOOG's reinvention of his Mini was to enhance the platform he already had, Marty was essentially creating a new project car off the same old base when he took his "Evo" from street to circuit.
While the Lotus vs Golf question might go on forever, the lads haven't wasted any time getting in and working on the Exige S. You can catch up with the latest Lotus episodes HERE and HERE. 
---