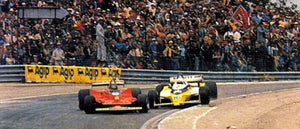 Renault brought turbos to F1, and that is only one highlight from their epic motorsport history
Have you seen the latest movie by MCM (CLICK HERE)? Basically, the MCM lads flew all the way to Paris to buy the cheapest Renault in France and then have an epic roadtrip on their way to the greatest motorsport event in the world: the Le Mans 24-hour! Why a Renault? Well because this French brand has an epic motorsport history that many Down Under don't know about because most French cars are as popular as a fart in a spacesuit. 
However, Renault has done some epic, epic things since it was founded in 1899. For instance; introducing the turbocharger to Formula One, beating Porsche at Le Mans, and beating some of the greatest 4WD Group B rally cars with a 2WD hatchback! They also won the very first Grand Prix, way back in 1906.
The Renault brothers, Marcel, Louis and Ferdinand, had marketed their car company in the famous town-to-town races of the pre-World War I era. The three brothers actually raced their own product, until Marcel was killed in the 1903 Paris-Madrid race.
For the first Grand Prix, a 1200km epic multi-day race held on roads near Le Mans, they modified their 1905 race car with some revolutionary technology never seen on a race car before: hydraulic dampers (ie: shock absorbers), and rear wheels with removable rims (thanks to Michelin). 
Despite searing temperatures melting the tar and leading to blinding dust that crippled drivers' eyes, the lead Renault ended up coming in 32 minutes ahead of the second-plate Fiat. It also topped 154km/h in the straights, which was much faster than the other cars in the race.
Fast forward 70 years and Renault was back on the Le Mans roads, hunting for wins. But this time they were taking on the might of Porsche! 
Renault turned up to Le Mans in 1976-1978, looking to take an outright win with their Renault-Alpine A442 tube-frame prototype. Powered by a 500hp two-litre four-cylinder and capable of over 360km/h down the Mulsanne Straight, Renault overcame teething issues with the new car to go close to winning the 24-hour classic in '77. They dominated the race 'til the overnight stretch when failed engines of all three cars handed an unlikely win to Porsche.
Renault radically revised the A442 for 1978 and came back not only faster than Porsche, but more reliable. WIth some of France's best driving talent behind the wheel (along with Le Mans legend Sir Derek Bell) they finally lifted the trophy, having beaten the mighty 800hp Porsche Moby Dick, 935 and 936 prototype. 
In 1980 the wild, mid-engined, turbo 1.5-litre Renault 5 Turbo took scalps against more powerful opposition from Fiat, Lancia, Audi, Peugeot, MG and Ford. Running only select World Rally Championship events the tiny rear-wheel-drive Frenchie managed to take wins at the Monte Carlo, Portugese and the Tour de Course (Coursica).
But Renault's major contribution to motorsport is introducing turbocharging to Formula One, radically changing the sport in the 1980s. The 1.5-litre V6 EF engine took on the mighty 3.0-litre NA V8 Cosworth DFV, which had been the leading engine choice for F1 teams since the mid-1960s, and won.
The turbo Renaults debuted in 1977 and took a little while to get around teething issues with the ground-breaking technology, but it all came together at the 1979 French Grand Prix, where French driver Jean-Pierre Jabouille took a massively popular win at the manufacturer's home round.
However, it was the duel for second-place between Renault's Rene Arnoux and Ferrari's Gilles Villeneuve which lives on as one of the greatest pieces of racing in Formula One history. The parochial French crowd were howling at the thought of a French car, powered by a French engine, with French drivers on French tyres (Michelin) and French fuel (Elf) could potentially go 1-2 at the home Grand Prix. Watch it HERE as it is genuinely mesmerising.  
The turbo Renault V6 F1 engine wound up winning 20 F1 races between 1979 and 1985, 50 pole positions and 51 podium finishes. Renault's history in the sport is off-tap, both as a manufacturer and an engine supplier, with 12 Constructor Championships, 11 Driver's Championships, and hundreds of race wins.
So, before you disparage the Clio just know it has impeccable heritage...
---