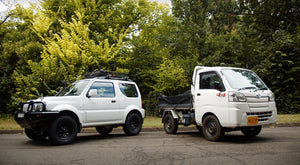 Massive end of year special goes places MCM has never gone!
We have always enjoyed taking a hard left turn away from where everyone expects the show to go. This has never been more apparent than when we decided to try our hands at four-wheel-driving.
With the three-cylinder Daihatsu Hijet Kei tipper truck and freshly modded Suzuki Jimny we had all the ingredients needed for a maaad multi-day off-road adventure.
We took the Jimny from an adequate (but under-prepared) machine in stock form and stepped through a bunch of upgrades with the help of Isaac The Carburettor and 4x4 Wizard. If you want to see exactly what was done you can check out the episodes HERE (Ep.1), HERE (Ep.2), and HERE (Ep.3). 
The Suzuki 4x4 has a proud history of trail-monstering performance but Marty's JDM tipper truck is more at home picking up hardware or landscaping supplies, or taking farm produce to the market. To help remedy this we fitted off-road tyres to the existing 2 inch body lifted truck and a custom air intake snorkel to prevent the engine drinking water instead of air.
Within a couple of hours of Sydney are countless trails on the other side of the Blue Mountains, and the we had a great time exploring them. After airing the tyres down we hit a bunch of fire trails that included some wild obstacles, like a bunch of mud pits, rock climbs and wash-outs. 
For 3 days we trekked through areas that had been devastated by Australia's catastrophic 2019/2020 bushfires, enjoying some amazing views and sights of the bushland growing back. Of course, part of off-roading is camping in the awesome Aussie wilderness, and while the Kei truck isn't designed for 4x4ing it seems better for camping than MOOG's Jimny thanks to the 2m by 1.6m tray!
Any trip into Central-Western NSW wouldn't be complete with a trip to Australia's most famous racing track, which is also a public road. Home to the famous Bathurst 1000, the Mount Panorama circuit is also one of the steepest bits of tarmac the Supercars series has ever run on, which makes it the perfect place to test out a couple of small-capacity off-road vehicles!
You can check out THE NEW EPISODE HERE in all its one-hour-and-eighteen-minutes of glory!
---