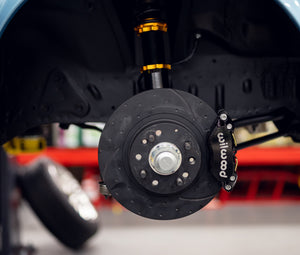 How to build custom coil-overs and brakes
Buying a classic car is a beaut experience as Marty found out with his brap-brap triangle Dorito dortbox (CLICK HERE). However, as old-timers say, "they don't build them like they used to" and so these vintage machines could do with some modernising if you're intending to drive them on modern roads in modern traffic.
Keeping the vibe of the original, old school machinery is important. While you can often reach out to aftermarket companies to completely reengineer your classic, sometimes it is better to look at a mix of factory and custom-made hardware. 
Marty's RX-7 was always a tidy machine, but he wasn't satisfied with how original some of the underpinnings were. While he was rebushing the suspension it was a choice time to have Gavin Brookes at Garage 48 build a set of custom coil-overs, and this includes a handy upgrade to larger FD RX-7 discs and Wilwood calipers.
The stock strut tubes are put in a vertical bandsaw to chop them down to spindes. This is similar to older Skylines and four-lug E30 BMWs, which also use insert-style shocks.
Here are the cut-down stock front struts, ready to be cleaned up and prepared for the coil-over tube to be pressed in.
An insert sleeve is fitted to the hub piece, while the strut tube is machined in a lathe for a precise, tight fit. The sleeve provides a solid locater for the strut tube to press down and lock in place so it won't walk around when it is welded on.
Gavin presses the two pieces together for a snug, precision fit.
All joined in holy welded matrimony, these lower legs are now ready to be powder-coated for a durable, hard-wearing and good-looking finish.
A quick coat of gloss black Oxytech powder coat gives an OEM style finish for the legs.
The new front hub is locked in place and drilled to suit the SA22/FB RX-7 4x110mm stud pattern, as the FD runs a 5x114.3 PCD.
Gavin assembles the threaded coil-over body together, with the shock insert, adjustable spring and new strut-top replacing the stock MacPherson struts. New wheel bearings are greased and fitted, along with the FD RX-7 rotor and Wilwood caliper to form a complete corner assembly. 
The rear struts may look odd, but they have been assembled in an inverted style with the coil spring at the bottom. This is so Marty doesn't run into issues fitting fat wheels and tyres on his RX-7.
The fronts feature adjustable spring perches but also damping, and can be easily tweaked for castor, too.
Once their heights are set on the bench, it is time to fit them to the car and bleed the brakes. 
---