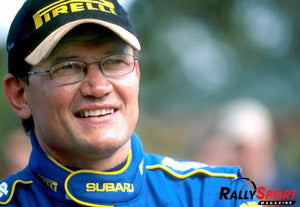 How a bloke called Possum owned rallying
If you've seen the latest episodes, where Marty and MOOG have been jamming a specially-built EZ30 three-litre flat-six into Marty's STI-swapped Levorg, then you'd have heard the name Possum Bourne a bit. If this is all news to you, maybe watch these episodes, STARTING HERE, then check out these episodes with Turbo Yoda, Mechanical Stig and Woody joining the party (PART 1, PART 2). 
Peter "Possum" Bourne is one of New Zealand's great motorsport heroes, having dominated rallying in NZ, Australia and the South East Asia area in the 1990s and early 2000s. While he passed away in a road crash 19 years ago, his business Possum Bourne Motorsport (CLICK HERE) has continued on as a place where Subaru fans can get spicy stuff like that forged EZ30 that Marty is currently jamming into his Levorg.
The Possum Bourne story is close to MCM as Possum drove cars built by Marty's favourite car brand: Subaru. From the first turbo Leone RX through the famous Group A Legacy and WRX days, to the World Rally Car-spec Imprezas later on, Possum was intrinsically linked to EJ-powered all-wheel-drive hardware. And boy could he drive them ridiculously fast.
Possum got his name when he stacked his mum's car while trying to avoid one of the marsupials, which are a pest in his native New Zealand. And while he may have started off in the vegitation, by 1983 he was wowing the rallying world with his speed and fluid style. 
What really elevated him to star status was Subaru's introduction of the all-new RS Turbo Legacy (Liberty in Australia). While Colin McRae and Ari Vatanen wowed Europe with the Group A Leggys, Possum was racking up wins and a legion of fans in Australia an New Zealand thanks to his ridiculous speed and laid-back, friendly nature.
The Group A rallying days were hugely competitive, with Toyota's Neil Bates proving to be Possum's biggest rival and the two of them would go toe-to-toe at rallies all the way to Bourne's untimely death in 2003. Every time one of his rivals would take the lead, Possum would somehow dig deep and come back.
Possum wasn't just winning in the B-ranks as he took out wins on the international stage, too. By the time the large Liberty/Legacy was replaced by the smaller, nimbler Impreza WRX Possum really had a handle on setting them up.
Possum's win list is impressive. He took out the '91 NZ Rally Championship, and the '92 Aussie Rally Championship for Group N. In 1993, 1994 and 2000 he won the hyper-competitive Asia-Pacific Rally Championship, going on to dominate the Australian Rally Championship by winning the outright title from 1996-2002. 
He also won the Ashley Forest Rally Sprint in 1989, '91 and 2000; the Queenstown Race To The Sky hillclimb in '01; the Hokkaido Rally Japan in '02, and won the Group N class of Rally NZ in '02 which was a round of the World Rally Championship.
While he was always fiercely competitive, he was also friendly and jovial. Possum was a true personality and a fan-favourite the world over, and his sudden death in a road crash devastated many Down Under. Today, while a statue stands in his native Pukekohe his memory is kept alive through the mad builds Possum Bourne Motorsport still does. 
---