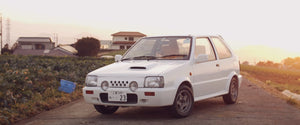 Honk-a-go-go! The Super Turbo is coming!
First things first, if you haven't watched the video of the Superturbo getting to Australia, check it out here!
Marty's Nissan March Super Turbo has landed Down Under and we get to hear its glorious honk in this week's vid, as Marty takes it for its first outing.
But what a journey it has been to get to the land of tim tams, kangaroos and gum trees. This little twin-charged nugget first featured in the film Turbos & Temples II, where Moog surprised Marty with a new version of the one car Marty always regretted selling.
Marty had owned a Super Turbo years ago, and it featured in the first season of Mighty Car Mods,
but he sold it as he needed a car he could carry around his band's PA in (an RS Liberty which was also featured on the show!) The regretti spaghetti set in and Marty then spent almost 10 years trying to buy that car back, to no avail.
It was a couple of years ago that Moog, on one of his frequent trips through the Internet looking at Cars He Definitely Shouldn't, But Probably Will, Buy, spotted this peach of a Super Turbo for sale. He got Japan-based homie Rob & Aaron From Import Monster on the case to acquire it and then set about setting up a trip to Japan so he and Marty could go pick up the tiny Honkzilla Deluxe.
Once they had picked up the key from a random convenience store the lads set out on an epic road trip through an autumnal Japan, driving from Nagoya to Tokyo where the car could wait for Australian import laws to change so it would be legal to import. Along the way they took it to a track day, got it stuck in a faulty car-stacker carpark, V-max raced it against an R34 GT-R on a highway, and ate questionable snacks in its tiny confines.
Now SuperTurbozilla is local Marty is keen to get on with the fiddly task of fixing a million tiny little jobs, so it honks its best honk, and tsutututus its best tsutututu.
We're talking about replacing millions of miles of vacuum lines, cleaning and painting Bits and Pieces in the engine bay, and generally enjoying the process of remembering what made Marty fall in love with tiny Japanese nuggets in the first place.
---
11 comments