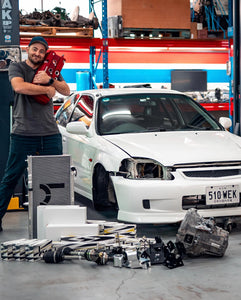 Everything you need to build a killer K-swapped EK Civic
If you've watched our latest video on K-swapping a mint EK Civic (CLICK HERE) you may we be engaging the frothzilla for your own piece of booo-BAAAA glory. So, we've put down all the parts used to build our sweet EK Civic streeter. 
This car started as a 2000 model Civic GLi, an auto D16 non-VTEC single-cam base model. We did some work to get it looking and handling its best thanks to EK9 Civic Type-R kit and Enkei RPF-1 15in wheels. 
The K-series engine we used is a K24A3 from a mouldy, festy Aussie market Accord Euro. We sold the stock transmission off to help pay back the purchase price of the car, and then it was onto decking out the engine with everything we'd need to make over 160kW at the front wheels and give us over 8000rpm of iVTEC glory.
ENGINE PARTS

JDM Yard K-swap headers – JDMKSWAP421 – LINK
Drag Cartel cam gear – DC-VTC-CMGR-45 – LINK
Drag Cartel cams – DC-OG-DIC - LINK
Skunk2 intake manifold – 307-05-0600 – LINK
Skunk2 70mm throttle body – 309-05-0080 – LINK
Skunk2 rocker cover fasteners - 649-05-0120 - LINK
K-Tuned IACV rotation plate – KTD-IAC-ROT – LINK
JDM Yard K-series intake manifold adapter – JDM-K24IM-ADP – LINK
JDM Yard genuine Honda K20 oil pump kit – PRBOPKIT – LINK
Hybrid Racing intake - HYB-CAI-01-02 – LINK
Hybrid Racing slim-line oil cap – HYB-OCA-01-05 - LINK
Hybrid Racing slim dipstick – HYB-DIP-01-06 - LINK
OE Honda DC5 Integra throttle body bracket
OE Honda K24 rear main seal
OE Honda K24 VTEC solenoid gasket
OE Honda K24 timing chain cover gaskets
OE Honda K24 timing chain guides
OE Honda K24 timing chain tensioner
OEM Honda DC5/EP3 valve cover – 12310-PRC-030 
ENGINE FITMENT
The DC2 Integra subframe is a genuine second-hand Honda unit bought from a wrecker, but it was stripped and rebushed to make it ready to accept the power the modified K24 is kicking out now. 
Hasport engine mounts - EKK2 -

 

LINK
Hasport K24 block bracket – UKBB- LINK
Hardrace lower control arms – 6130 – LINK 
Hasport conversion driveshafts – EP-EGKAX –

 

LINK
Honda K20 DC5 Integra intermediate shaft – new from Honda
Hardrace steering boot – 7894 –

 

LINK
Hardrace steering bushes – 6223-US –

 

LINK
TRANSMISSION
We used a Honda Y2M3 six-speed manual out of a DC5 Integra Type R, which came factory with a high-performance K20 engine from the factory. We also used a factory Honda DC5 Integra gearbox bracket to mount it.
FUEL SYSTEM
We put together a few kits to sort our whole fuel system as the K24 will make more than double the D16's original weedy output. The Hybrid Racing kit included a fuel rail, fuel lines, fuel regulator, and fuel pressure gauge, while the Honed fuel pump kit included much more than just the lift pump.
Honed fuel pump kit - HDP34-04 – LINK
Hybrid Racing tucked fuel system - HYB-BUN-01-80 - LINK
Raceworks 1000cc injectors - INJ505 - LINK 
WIRING
Some accessories we needed included various sensors to suit the K24, and some to suit the Haltech ECU. The charge circuit for the engine needed to be customised from the Accord parts to suit the Civic body loom.
Hybrid Racing engine conversion harness - HYB-CWH-01-19 - LINK
Haltech wideband - HT-10718 - LINK
Haltech Elite 1500 to suit K24/DC5 trans - HT-150960 - LINK 
Haltech IC-7 dash – HT-067010 – LINK
Speed Science tucked wiring harness - SS-Harness-K - LINK
Hybrid Racing coolant sensor adapter - HYB-CTA-01-05 - LINK
Hybrid Racing ground kit - HYB-GRD-01-05 - LINK
JDM Yard acuity hall effect TPS – ACUITYTPS – LINK

Boostd Intl dash cluster – EKCIVICDASHNODASH – LINK 
ACCESSORIES
As with any engine swap there are a bunch of random parts like radiator hoses which can take ages to sort out if you can't buy off-the-shelf parts like these!
SUSPENSION
Hardrace lower control arms – 6130 – LINK
OE Honda DC2 Integra shock forks (to adapt EK struts to DC2 subframe)
Hardrace inner tie rods – 6262 – LINK
Hardrace outer tie rods – 6273 – LINK
Whiteline EG Civic roll centre correction kit – KCA524 – LINK
Whiteline EG Civic front swaybar bushing – W21169 – LINK
Whiteline EG Civic front swaybar washer – KW2 – LINK
Whiteline 24mm DC2 front swaybar – BHF53Z - LINK
All up we spent nearly a year planning this swap and researching what parts we needed to have on hand before we even lifted the Civic's bonnet. The swap itself took a few days as we had a couple of worn parts to replace which we couldn't have foreseen before we started, and using trusted brands from reputable companies meant everything came together like it should have. 
The car is now driving on Sydney roads and a rude amount of fun. B16 who? 
---