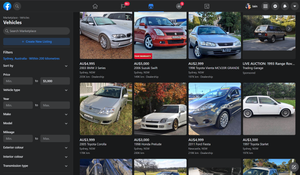 BUDGET BUILDS: the top 5 budget cars for your first project!
"You should build cars the average person can afford" is something we have seen written all over social media whenever a new car build breaks cover - and this is true for our videos, as well as a lot of our mates making videos.
As the prices for our favourite 1980s and '90s nuggets rise dramatically thanks to dwindling stocks and surging nostalgia, our corner of the car hobby is getting very expensive... let alone the cost of chrome bumper classics!
So, what do you people wanting to get into their first build, or someone wanting a simple build on a tight budget, do? They can't go pick up a twin-cam AE82 Corolla for $500 or an N14 Pulsar SSS for $3000 like we used to 20 years ago.
The answer is to look at unorthodox places to get a budget build fix. We need to think outside the normal WRX, Skyline, Silvia, Supra, Chaser, E30-E46 mindset as those vehicles are all now considered desirable, collector cars, and their age means they require a level of mechanical skill which novices simply don't have yet. 
These are cars which can be purchased (in Australia) for under $5000, which could be a daily driver and a project, and something a novice could work on with a small budget and basic hand tools. It isn't an exhaustive list, but hopefully this gives people a bit of inspiration
Marty and MOOG proved an XP90-series Yaris (or Vitz in other parts of the world) is a great first project car when they grabbed a 1.3-litre Yaris and started off doing basic mods like shocks, wheels, tyres and a good service. Later they added a much-bigger engine and gearbox from a Corolla, all for a very tight budget (WATCH THE SAD SAGA OF YARIS HILTON HERE). 
There are thousands of cheap Yaris (Yarii?) floating around Marketplace, Gumtree, eBay and the side of the road, and their smaller size compared to a Corolla gives you even better bang-for-your-buck. With grassroots budget-oriented racing series like the Nugget Nationals gaining popularity across the world there is a growing number of people learning how to make these mad little machines really rip.
Rear-drive 1990s Japanese cars have pretty much all quadrupled (or more) in price since the Covid-19 pandemic kicked off, however there are still some A-grade bargains out there, like the Lexus IS200. These sweet-handling, well-built sedans are littered through the internet for a pittance, and provide a far better base for a project car compared to Australian-made Ford and Holden six-cylinder sedans. 
The IS has a generous engine bay that can swallow plenty of engines (like Mechanical Stig's 6L V8-swapped IS), and Lexus backed this up with a solid chassis and great suspension layout that has plenty of aftermarket support. Factory Toyota Altezza models powered by the rev-happy 3S-BEAMS engine led the performance aftermarket to develop plenty of go-fast parts, meaning there are plenty of people out there using the baby Lexus as a cheap track toy while the VIP scene has all the body kits and air suspension you could want for a low'n'slow cruiser.
You should have known a CE-series Mitsubishi Lancer was going to pop up here! Marty proved with 2SEXY (WATCH THE WHOLE PROJECT HERE) that you can take any car and build it into a mad track machine with some research and a lot of elbow-grease. These hugely popular front-wheel-drive four-cylinder cars came in a broad range of trim levels, and their simple engineering platform means there is a lot of easy ways to upgrade them.
Sold from 1996-2003 this series of Lancers came in two-door coupe and four-door sedan, and rough examples can be had for as little as $200 these days. A whole host of engines, including the Evolution 4G63, "big-block" 4G69 2.4-litre, and even the 6A12 two-litre V6 from the FTO sports coupe, all fit in these engine bays, meaning you really can build one to almost any taste you like.
OK so Mitsubishi trainspotters will cry foul because technically the 1996-2003 Mirage is actually the car the CE-series Lancer is based off, but they have a different badge so I'll throw the Mirage in here as another rad option for building your first project car. 
These lightweight little hatchbacks have been stuffed with all sorts of engines (I've seen one with a turbo 3.8-litre V6 from a Mitsubishi 380), and some guys were even grafting Evo Lancer floorpans in the rear so a full turbo 4G63 all-wheel-drive Evolution drivetrain swap was possible. The sky is the limit and these little hatches have never been cheaper.  
The 9th-generation, BJ-series, Mazda 323 from 1998-2003 would make a great, cheap base for a project car like 2SEXY. Available in the Astina five-door hatch back, or Protege four-door sedan, the SP20 was a well-appointed model with good handling and punchy NA two-litre four-cylinder - I actually owned one when they were new and loved it so much three of my mates ended up with them as daily drivers for years and years.
Treat them to regular servicing and they'll run like clockwork, while they were a popular model in America with the turbocharged Mazdaspeed model, so upgrades aren't impossible to find. Later model Mazda3s and the smaller Mazda2 models are also great options for cheap project cars, and replacement parts to fix any broken bits are easy to source in Australia as there are so many of these cars around the place.  
We all know Marty loves his Subarus because they're basically lego cars, and you can still find stacks of cheap Subies of all flavours to make rad project cars out of. If this is your first project I'd personally suggest looking at 2001-2005 Subaru Imprezas as they are cheaper than the more popular GC8 model, and arguably have more aftermarket support. 
While many joke about hEaDgAsKeTs the reality is there are a stack of ways to slam or lift one of these all-wheel-drive rigs, plus all the gear from a proper fast STi Impreza will bolt in later on if you decide to push your project car all the way. Otherwise, wheels, coilovers and some aesthetic upgrades can make a cool, reliable project car like the below example proves (cheers to Team Stance LINK for the below pic).
If none of these cars tickle your bits, there are heaps of other maaad cars out there which could make sweet projects cars for people with a little bit of mechanical experience:
K11 Nissan Micra
RS-gen Suzuki Swift
TS Holden Astra Turbo (or SRi 2.2L)  
Renault Clio II Sport
VW Mk5 GTI
BMW E36 318Ti
Honda Jazz
---